For more information on Annual Tenant Safety Notices, please visit here.
To place an order for Annual Tenant Safety Notices, start by logging in to your SiteCompli account.
http://clients.sitecompli.com/

Step 1. Create An Order Mailing
Once logged in, from the Dashboard, click on Services from the left-hand menu, click on Safety Notice Mailings, then click on the blue Order Mailing button.


Step 2. Confirm Addresses
In the Order Safety Notice Mailing pop-up, fill out the following information: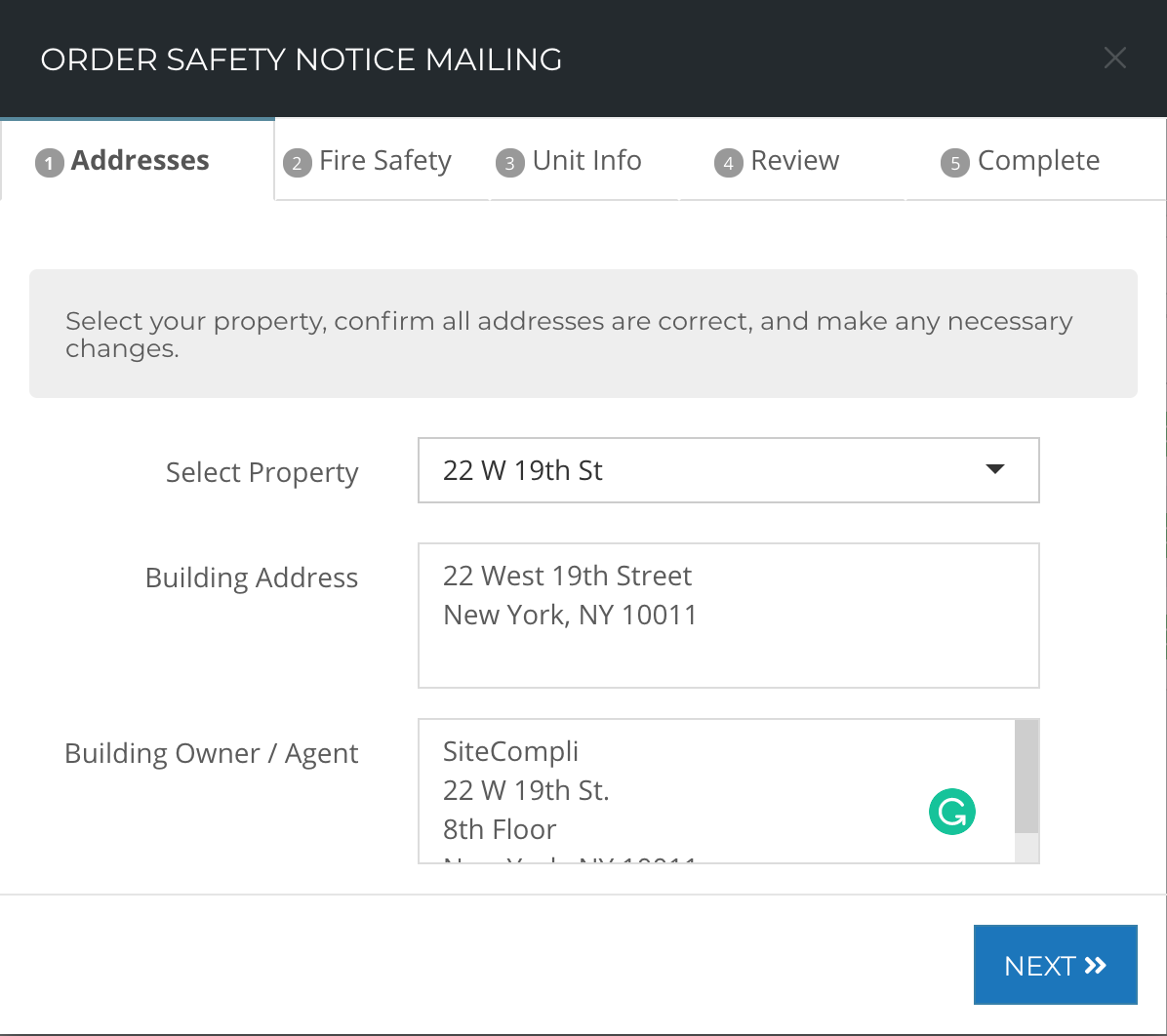 Select Property - this is a drop-down field

Confirm the Building Address and the Building Owner / Agent information
Click Next

Step 3. Fire Safety and Emergency Preparedness Guide
Input your building information so a Fire Safety and Emergency Preparedness Guide will be sent to your tenant: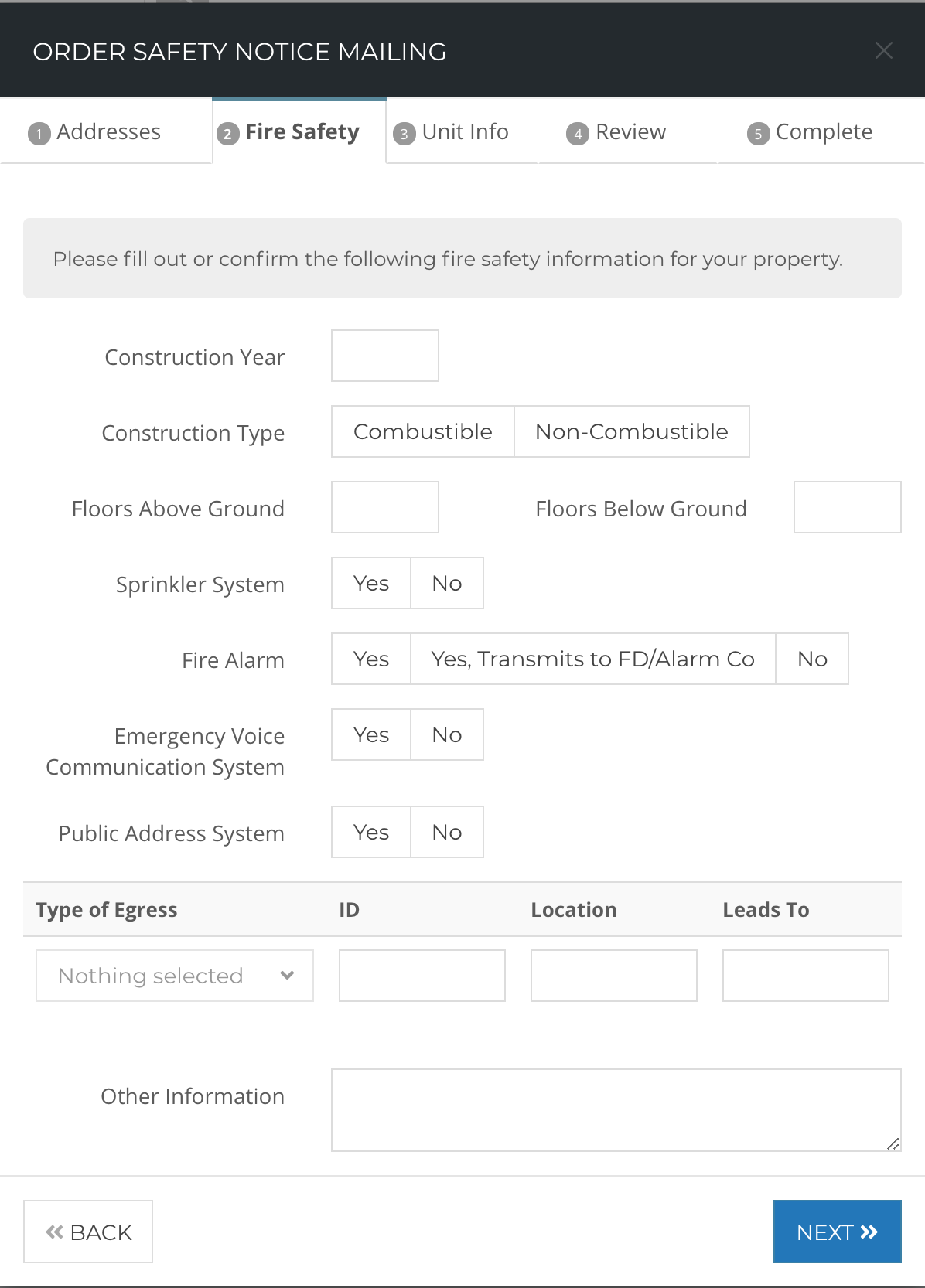 Enter the year the property was built

Select the construction type (Combustible/Non-Combustible)

Enter the number of floors above and below ground

Select whether there is a Sprinkler System (Yes/No)

Select the type of fire alarm equipped at the property

Select whether there is a Public Address System (Yes/No)

Add all of the property's egresses and their locations

Click

Next
[For your building's specific Fire Safety information, consult your Fire vendor]
Step 4. Unit Info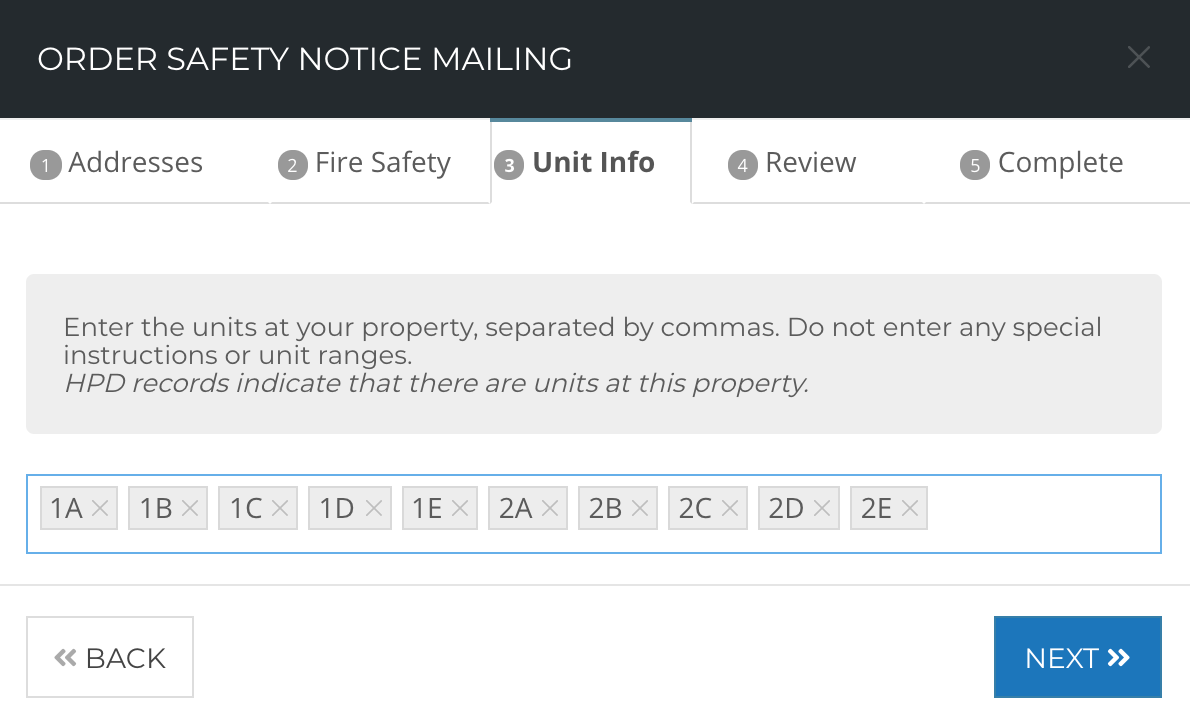 Enter the individual unit numbers at the property, separated by a comma or space. Make sure the units are entered exactly how they would appear on a piece of mail, e.g. Unit 2-A vs. Unit 2A.
Click Next
Step 5. Review Your Order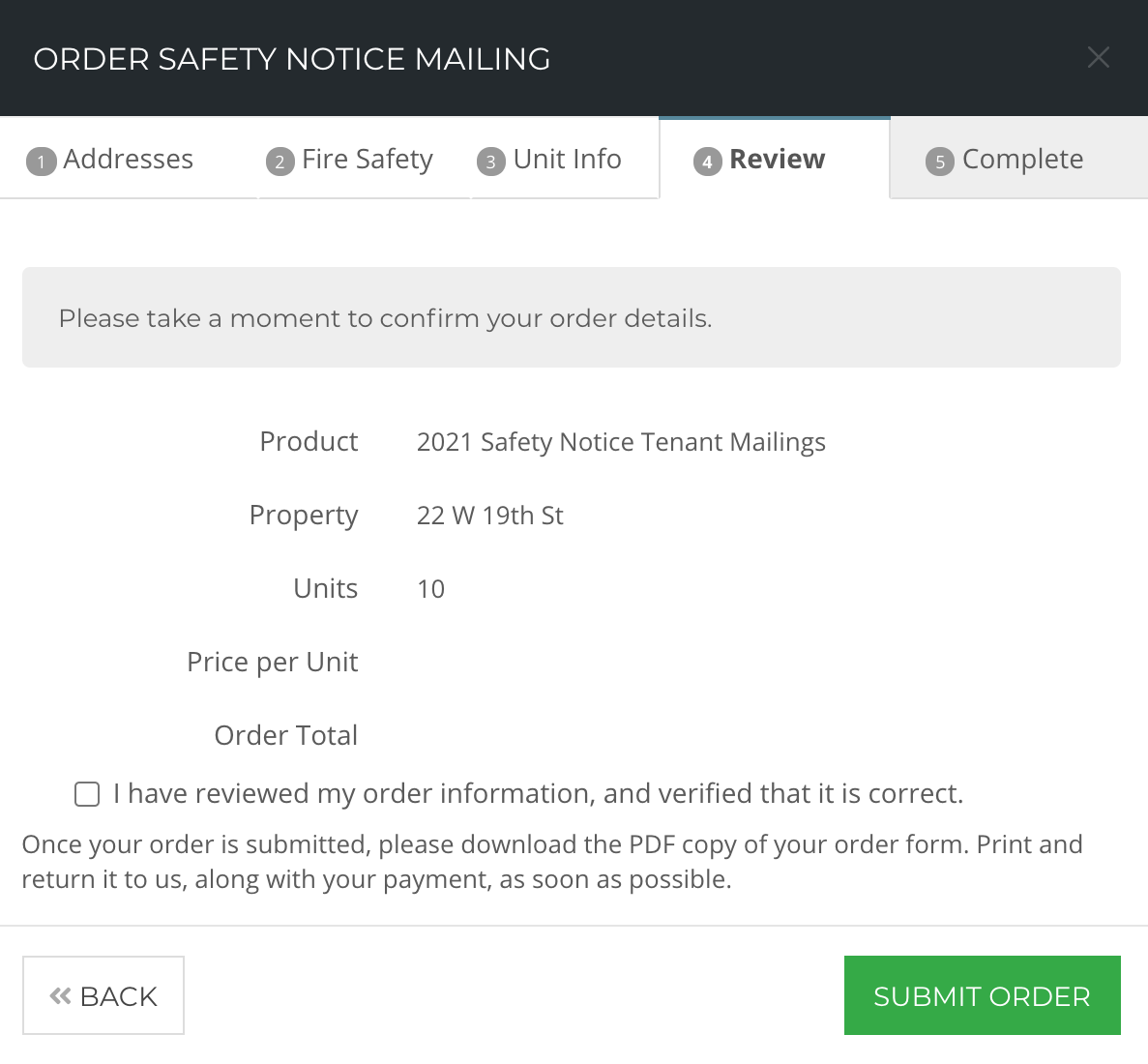 Confirm your order details

Check the box to verify your confirmation

Click

Submit Order
The order will now be present in your account ready to be confirmed.

How Do I Edit My Order?
If you need to make changes, you can edit your order. To edit, expand the order details (click on the small plus sign next to the order number) and click Edit Order.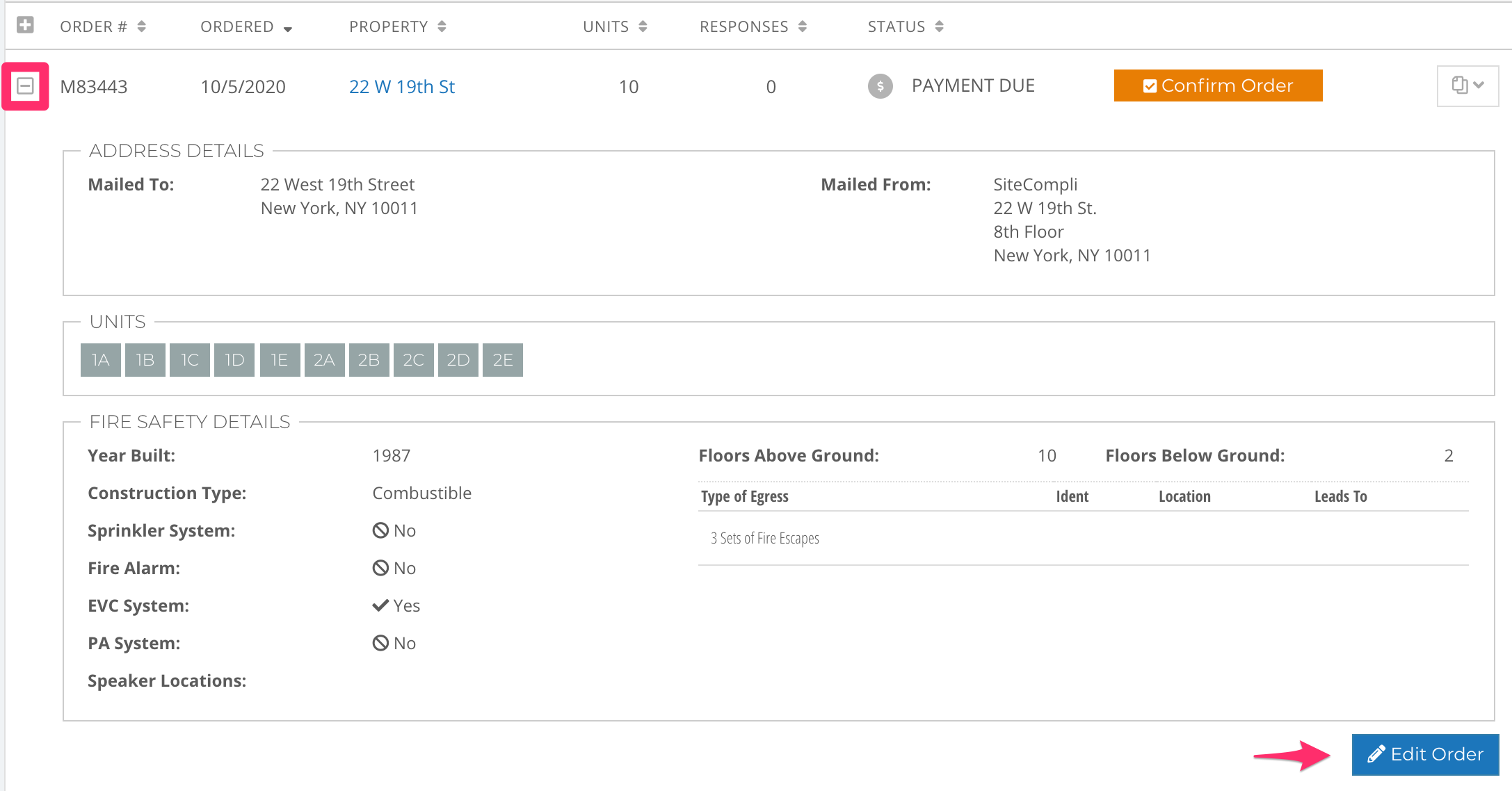 Step 6. Confirm Your Order
After you have submitted your orders and verified all the information on the order is correct, you must click Confirm Order.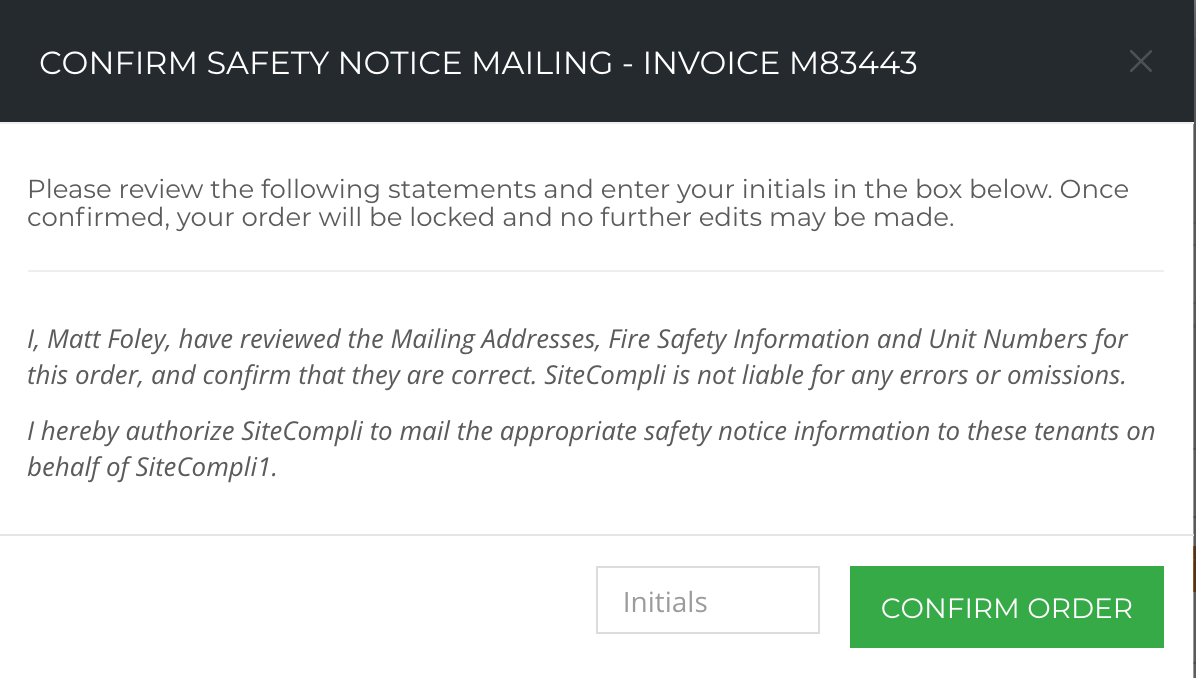 After your order is confirmed, the Tenant Safety Notices will be printed and mailed to your property's tenants.
Note: Properties removed from compliance monitoring will NOT be included in future Annual Safety Mailings. Only actively monitored properties are eligible for mailings.
If you would like to order Tenant Safety Notices for a significant number of properties or require additional information, please contact Customer Support at support@sitecompli.com.