Compliance Requirement
If by March 1st you are unable to gain access to or inspect an unresponsive tenant's apartment to determine if there are children of applicable age residing in the unit, you must notify the Department of Health and Mental Hygiene in a letter describing the situation, indicating all attempts that have been made to gain access or inspect.
The DOH only requires this if you did not receive a 100% response rate in your building.
Where can I find the Letter to DOH?
If your building does not have a 100% response rate, you can automatically create a letter to the DOH in SiteCompli by logging all inspection attempts made in your account.
To generate the Letter to the DOH, navigate to Services and click on Safety Notice Mailings.
Find the property in the list of orders and click View Responses.

From there, click on Docs at the top of the page and select Letter to DOH.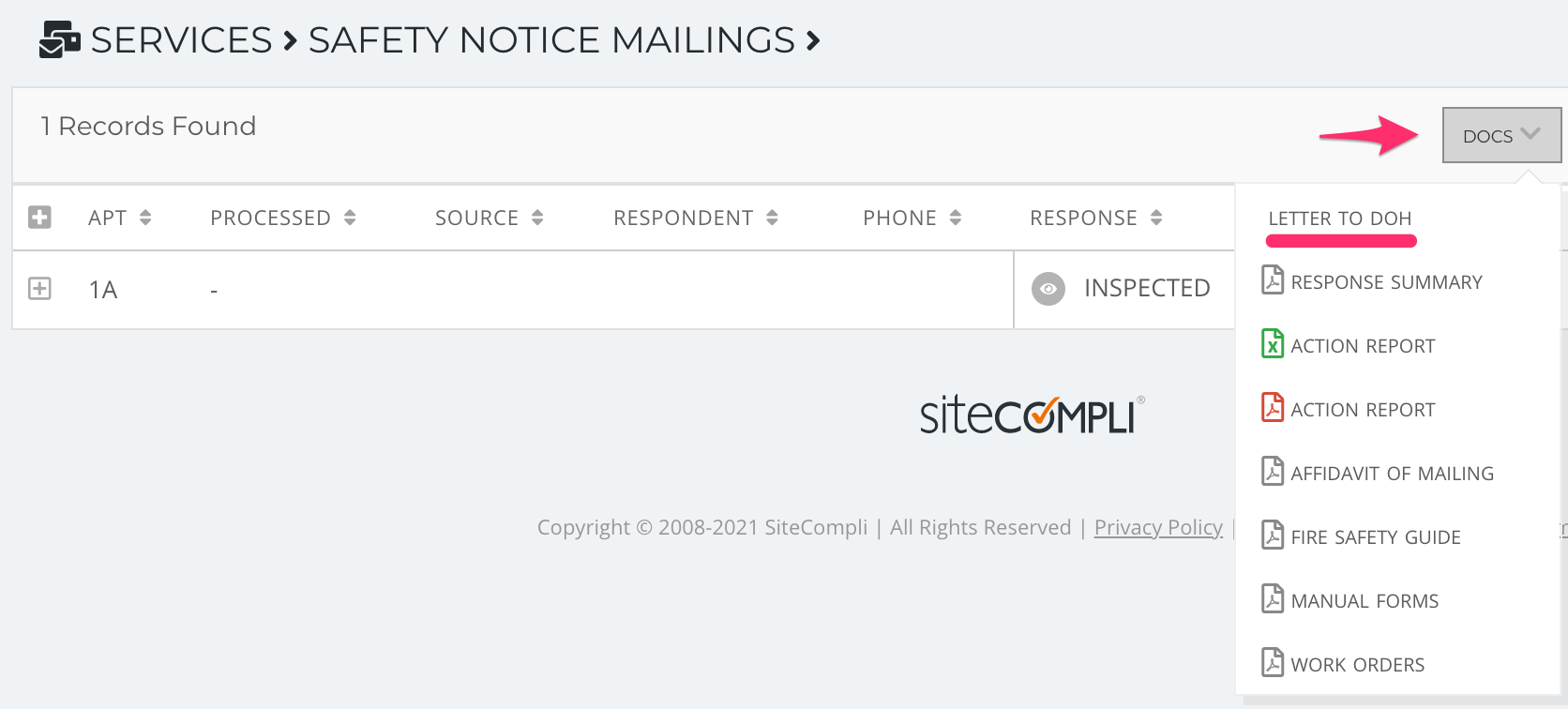 Why isn't the Letter To DOH available?
The Letter to the DOH will not be an option in Docs if the building has a 100% response rate or no inspection attempts have been logged for that property in SiteCompli.
Each tenant mailing property needs to have at least one inspection attempt listed on an unresponsive unit. However, we recommend completing the full Smart Inspection Log (provided with each Manual Form PDF) and submitting your Smart inspection Logs to support@sitecompli.com and/or inspectionlogs@sitecompli.com.
You can read more about Manual Forms and Smart Inspection Logs here - Manual Forms & Smart Inspection Logs.

Once an inspection is logged, the unit's response status will change from Mailed to Inspected.
Response Definitions:
Mailed - No tenant response received
Pending - Tenant response is being qualified (will be updated to Processed shortly)
Processed - Tenant response received
Inspected - inspection attempt has been logged for the unit (The Letter to DOH will now be available)

Recommended steps to obtain the Letter To DOH
1. Once the Manual Forms become available, provide the manual forms to your building staff and have them distribute the manual forms to your tenants.
2. As your building staff delivers the Manual Forms, have them complete the accompanying Smart Inspection Log. As each form is delivered, have them fill in the Delivered bubble on the Smart Inspection Log.
3. Once completed, please have your staff send the completed manual forms and smart inspection logs back to us at support@sitecompli.com. Once the Manual Forms and Smart Inspection Logs are processed, the Letter to DOH will become available.