Don't see this feature? Inspections are only available for users with certain InCheck packages. If you have any questions about how your team can access this feature, reach out to support@sitecompli.com.
Inspections allow your team to seamlessly record highly customized information about your properties and assets, take actions on the results, and present the results in easy-to-read reports. 
This guide will go over completing Inspections on the InCheck Desktop platform, how to add and complete Inspection Tasks as part of your larger workflows, and how to edit and export your Inspection results.
Overview
You can log Inspections in InCheck through the desktop platform or directly from the mobile app. New Inspections can be logged as part of an Inspection Task, part of a larger Workflow, or as separate records not attached to Tasks or Workflows.
To log a new Inspection while logged into the desktop platform:
Click Inspections from the left-hand menu
Click on the Inspection sub-category (ex. Unit Inspections)
TIP: The Inspections category on the navigational menu is organized into sub-categories based on the type of item or asset you're inspecting.
Click Add Inspection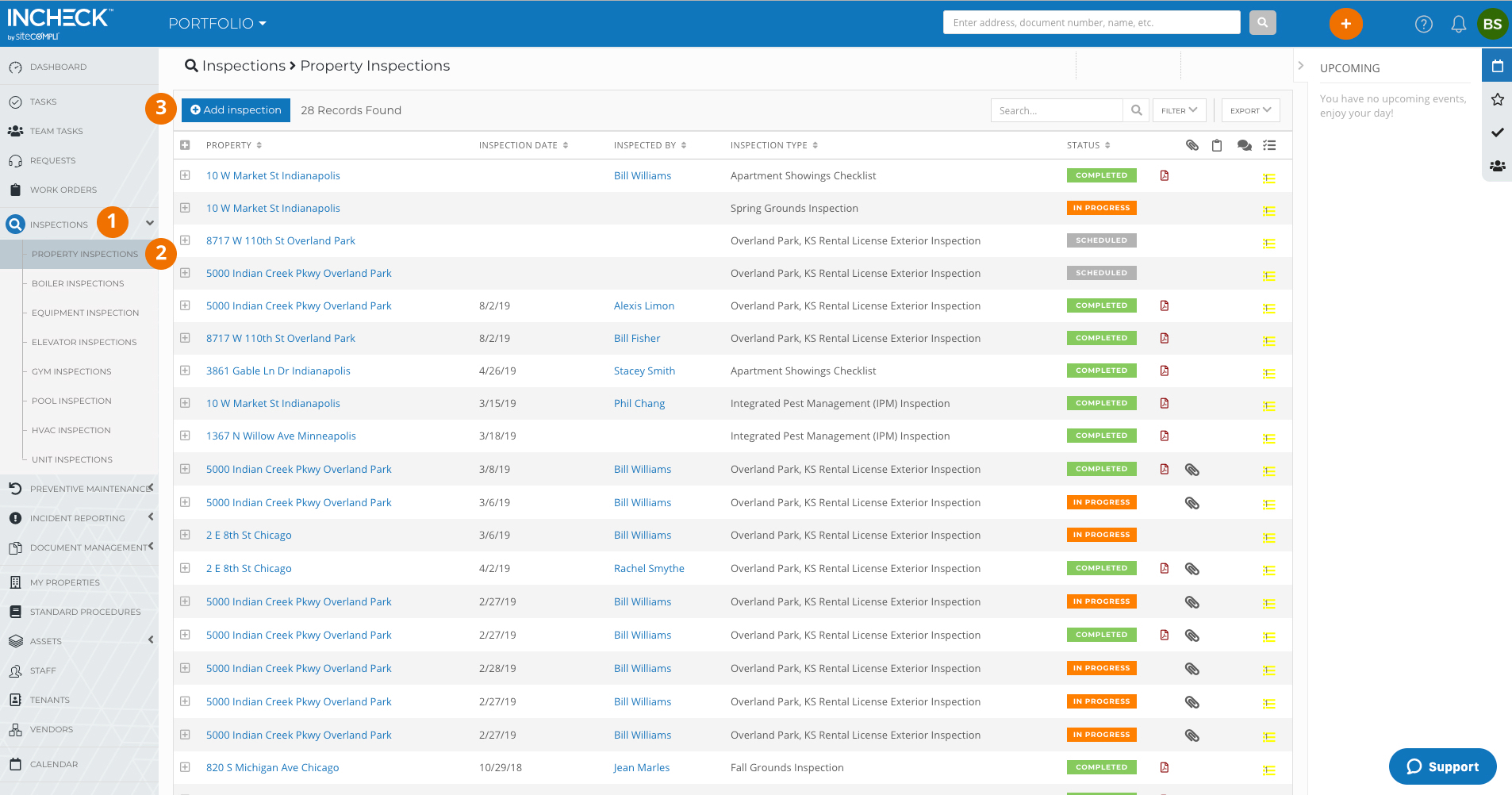 Select the property from the drop-down menu
Select the Inspection type from the drop-down menu
Fill out each component of the Inspection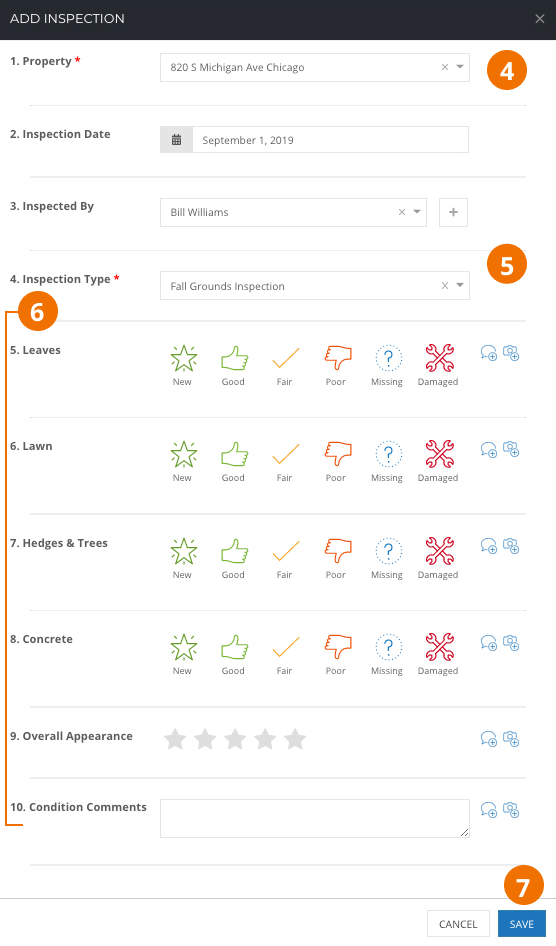 TIP: To attach additional information, click on the photo icon to take a photo or click on the speech bubble icon to add a comment to any component of an Inspection.
Click Save when finished
Inspections as Tasks
Inspections can be logged as stand-alone records or as part of a larger Workflow as an Inspection Task Type.
To include an Inspection as a Task in a Workflow:
Navigate to the second tab (the Tasks tab) of the Workflow Creation Wizard
Select Inspection Task from the Task Type drop-down menu
Select the specific Inspection from the drop-down menu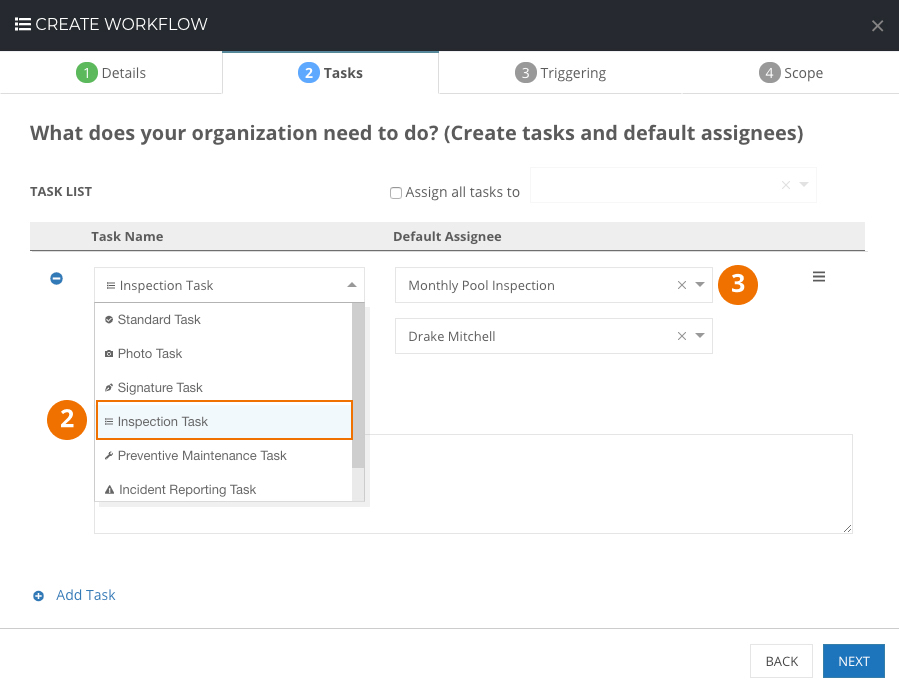 BEST PRACTICE: Include your recurring Inspections as scheduled Workflows so Inspection Tasks are automatically assigned to your team when they need to be completed.
Inspection Tasks require an Inspection needs to be completed before the Task can be closed.
Expanding the details of the Task will show you the requirements needed to complete the task under Requirements section. Once the Inspection is completed, you can close out the related Task.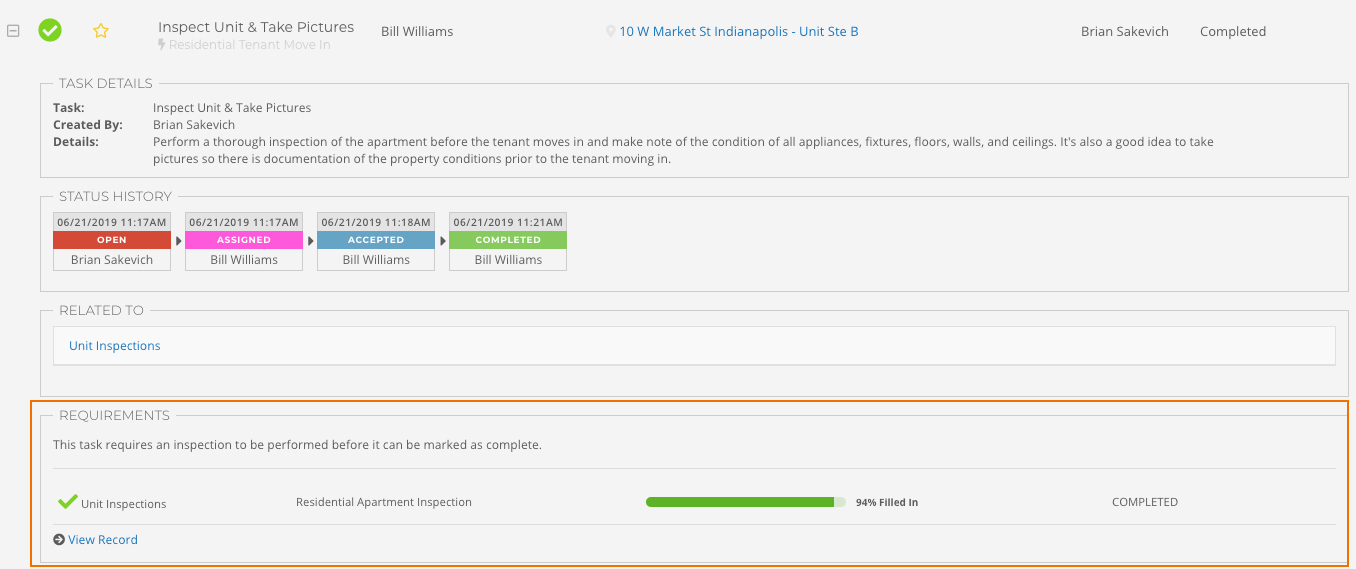 Editing Inspections
You can edit a completed Inspection if you need to add additional details. To edit an Inspection:
Expand the details of the Inspection
Click the pencil icon
Make your desired changes
Click Update
Viewing Inspections
Once an Inspection is completed, you are able to print off a PDF report of the inspection results. This PDF will include any notes and photos taken during the Inspection.
To view the Inspection PDF, click on the PDF Icon next to the Inspection.