What is a CAT 1 Inspection?
A no-load safety test must be performed between January 1st and December 31st each year. The performing agency must notify the DOB 5 days in advance of tests. Additionally, the category test report no loner requires the signature of the witnessing agency inspector (but does require the witnessing agency director's signature).
Reports must now be

submitted to the DOB within 21 days

after the test date.
All

defects outlined in the report must be corrected within 90 days

Owners may request up to two 45-day extensions.

Affirmations of Correction must be submitted within 14 days

of the date corrections were made.
How do I file?
File on DOB NOW: Safety | (Filing ELV3 Form)

The Filing Fee $30/Device

Late Filing – S150.00 Per month
What if I don't File a CAT 1 Inspection? / What is an EVCAT 1 Violation?
An EVCAT1 will be issued for failure to file Category 1 annual inspection and a penalty of $3000
What if I receive notice my CAT 1 Inspection was accepted but with "defects"?
The elevator must be corrected within 90 days of the original inspection date and filed within 14 days of the correction date
What if I don't correct the defect and didn't submit an ELV29 form?
An ACC1 violation will be issued for failure to file an ELV29 (Affirmation of Correction) on an Unsatisfactory/Accepted with Defects Category 1 elevator inspection.
To Resolve an ACC1 violation, please note the following:
Pay the penalty and submit

an

Affirmation

of Correction.
* The ACC1 carries a penalty of $3,000 per non-compliant device. *
How do I resolve an EVCAT 1 Violation?
Pay the full civil penalty with the Elevator Division at the Department of Buildings.
To challenge an EVCAT1, provide proof of the timely, filed, and complete Category 1 test along with a copy of the canceled check for the inspection fee to the Elevator Division within 30 days of issuance of the violation.
Initial Inspection Report (ELV3)

1-2 Family Homes

Multifamily
&
Commercial

Multifamily
&
Commercial

CAT 1

CAT 1

CAT 5

Late Filing Fee per month per device

$50

$150

$250

Max late Filing Fee per year per device

$600

$1,800

$3,000*

Failure to file fee per year per device

$1,000

$3,000

$5,000
As of September 17, 2018, all new inspection/test reports and notifications for elevators and other related devices must be submitted online through www.nyc.gov/dobnow. This applies to:
Elevator Inspection/Test Reports (ELV3) for Category 1, Category 3, and Category 5 inspections.
How can I review my elevator devices and their current state of compliance?
On the Elevator Record page you'll find Elevator Record Cards for each device associated with your property assignments.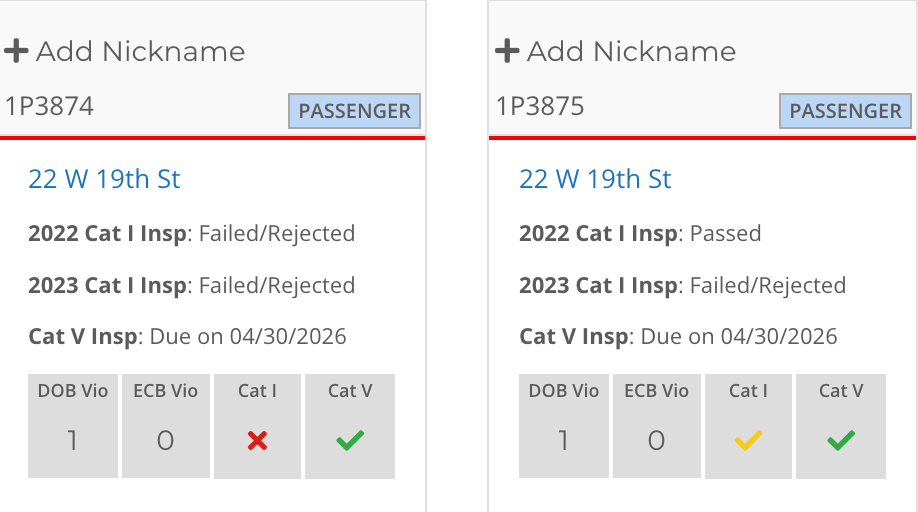 Red X: No CAT1 was filed/a submitted CAT1 failed/rejected in the previous year
Yellow Checkmark: A CAT1 was filed and accepted in the previous year, and a CAT1 is still due for the current year
Green Checkmark: A CAT1 was filed and accepted for the previous and current year